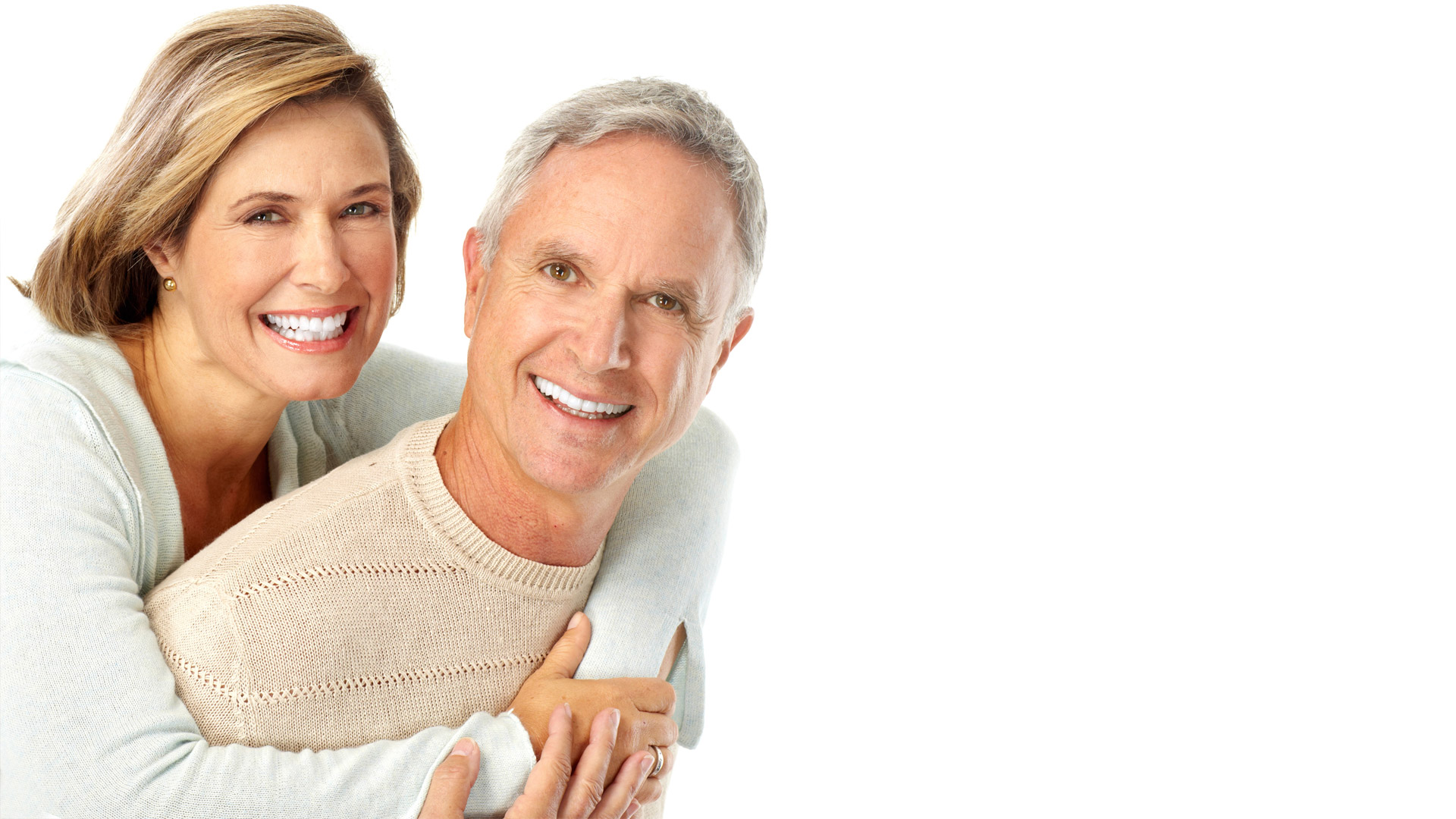 Are They Right for You?
Dental implants can support replacement teeth in much the same way as tooth roots support natural teeth.
If you are missing one or more teeth and would like to restore your ability to smile, speak, and eat with comfort and confidence, then dental implants may be right for you. Perhaps your dentures don't fit as securely or comfortably as they once did. Perhaps you hide your smile because of spaces from missing teeth. Or, perhaps, you have loose teeth that need to be stabilized after treatment of advanced gum disease. If any of these situations keep you from feeling good about yourself and your smile, dental implants may be a solution for you. Technological advancements in dental materials and techniques have improved the success rate of implants, enabling many patients to enjoy comfort and confidence in their oral health.
What are Dental Implants?
Dental implants are artificial substitutes for natural tooth roots. The implants—small anchors shaped like screws, cylinders or blades—are placed into the jawbone. Replacement teeth are attached to the part of the implant that projects through the gums.
What do Implants do?
Dental implants can provide non-removable tooth replacements in the toothless jaw. Dental implants can provide support for a full denture, making it more secure and comfortable. They can support a fixed bridge, eliminating the need for a removable partial denture and can also assist in the replacement of a single tooth without the need to alter adjacent natural teeth.
Would I Benefit from a Dental Implant?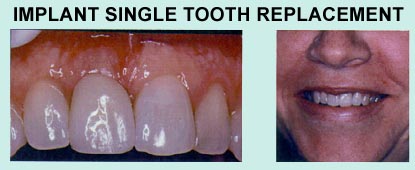 Although dental implants have brought a comfortable, confident smile to many patients, they are not for everyone. The ideal candidate has good general health, good oral health and adequate bone in the jaw to support the implant. Equally important, the ideal candidate is willing to commit to conscientious oral hygiene and regular dental visits.
Your dentist or periodontist can help you decide if a dental implant is right for you. Essential to the decision is a comprehensive dental examination. The dentist will review your medical and dental history, thoroughly examine your oral tissues and supporting bone in the jaw, and check the way your teeth fit together when you bite. X-rays and models will be taken and analyzed, perhaps with the help of a computer. After this careful examination, your dentist or periodontist will talk with you about dental implant options. You should discuss the benefits, risks, and possible alternative treatments.
What are the Advantages of Dental Implants?
Dental implants can support replacement teeth in much the same way as tooth roots support natural teeth. Dental implants provide an alternative to a denture that wobbles, clicks or causes pain. Dental implants also can prevent embarrassment about spaces from missing teeth. Instead, you can smile and speak with confidence, and enjoy your favorite foods again. When tested dental implant systems are placed by trained dentists, they can have a success rate greater than 90 percent. In fact, with effective oral care at home and regular dental visits, dental implants have lasted as long as 20 years and may last a lifetime.
What are the Disadvantages?
A dental implant requires a greater financial investment than a removable bridge or conventional denture. On the other hand, an implant can offer advantages in terms of comfort and appearance—benefits many patients find well worth the cost. A dental implant also requires an investment in time,perhaps three to nine months from start to finish. If you consider that implants have lasted as long as 20 years and can last a lifetime, the investment in time is quite reasonable. As with any surgical procedure, dental implants involve a risk of infection. Occasionally, an implant may loosen and require replacement. Because each person is unique, implant success cannot be guaranteed.
What is the Treatment Like?
The treatment will vary depending upon the type of implant and the health of the patient. For example, many patients can receive implant treatment in the dental office. A brief hospital stay may be necessary for other patients. A local and/or general anesthetic will be used to help insure patient comfort during the treatment. The first step is placing the implants into the jawbone. After this surgical treatment, the bone in the jaw attaches to the implants, holding them firmly in place. The attachment of bone to the implant usually takes three to six months. Second, small metal posts or cylinders are attached to the implant, projecting through the gums. After this second surgical treatment, the gums take several weeks to heal. Third, replacement teeth are created and securely attached to the small metal posts or cylinders. Several fittings of the new teeth may be needed. After treatment is completed, brushing, flossing and visiting your dentist regularly are essential to the success of the dental implant.
Who Provides Dental Implant Treatment?
Dental implant treatment requires special knowledge, training and facilities, so not all dentists provide the service. Periodontists are dental specialists with advanced training in the treatment of gums and bone supporting the teeth. Because implants are connected intimately with the gum tissues and underlying bone in the mouth, many periodontists provide dental implants. If you would like to see whether dental implants can can add comfort and confidence to your smile, call our office at (401) 781-2742 to make an appointment.